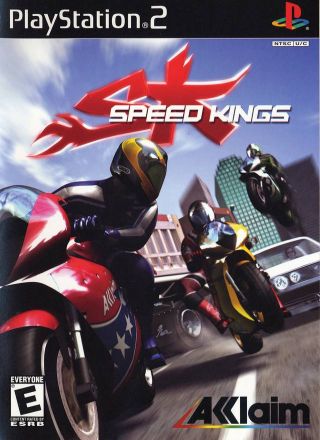 Baixar Speed Kings PS2 ISO Download
Baixar Speed Kings Playstation 2 ISO Download
Baixar Speed Kings Play 2 ISO Download
Speed Kings is an arcade-style motorcycle racing game that turns traffic-filled streets into a high-speed, two-wheeled obstacle course. Developed for all consoles by Climax Studios, the game features adrenaline-infused tricks, stunts and combat, as well as hidden features and dangerous speeds. The creators included 22 bikes based on production and custom real-world models, the single player modes and five multiplayer competitions. In addition to interactive street environments that feature moving traffic and destructible objects, Speed Kings also sports a full deformation system, illustrating real-time bike damage. Gamers will need nerves of steel and lightning fast reflexes if they are to survive the danger on the road and be crowned the ultimate "Speed King".
Desenvolvedora : Climax Group
Publicadora : Acclaim
Data de Lançamento : 28 de Maio de 2003
Classificação Indicativa : Para maiores de 6 anos